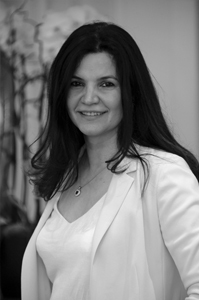 Areas of expertise
Romanian law, French investments in Romania
Business law, Contract law
Notarial law (Inheritance, Real Estate)
Family law
She is also a lawyer at the PARIS Bar (1999), and holds a DEA degree (1995-1996) in Private International Law (DIP) and Contract Law, from the University of Paris XI. Her cursus was enriched by two years of doctoral thesis under the direction of Professor Bertrand Ancel (1997 -1998) in the field of French investments in Romania by mergers and acquisitions, business takeovers. She gained her experience in this field at the international firm KPMG FIDAL PARIS.
After creating her own firm in 1999 and various collaborations in Romania, she joined CARLER law firm in 2015.
Her clients are often looking for a double competence in international contracts, investments by Romanian residents in companies in France or by French residents in companies in Romania, in partnerships but also in litigations, enforcement actions and seizures, recovery of receivables or distribution contracts.
She has assisted and advised artists – including an internationally renowned Romanian songwriter and panpipes artist, and a concert producer and conductor of world famous Dutch orchestra, in the negotiations in PARIS leading to many concerts in BUCHAREST and other capitals, but also for CD publishing following remastering of DATS at the major Paris record companies and Swiss music publishers, in the context of Intellectual Property law and copyrights.
Member of The Association of Representative Lawyers in Real Estate Transactions of PARIS (AAMTI), she practices this activity since 2010, receiving purchase, sales and rental orders of real estate, including real estate or rental investments between France and Romania, in addition to the classic real estate litigation.
Since 1999, she has also developed some experience in notarial and family law, inheritance disputes, appointment of ad hoc liquidators of Property Investment Companies and successional joint ownerships, getting out of disputed joint ownership, evictions etc.
CMAP Referee – Paris Mediation and Arbitration Center – Center CCI Ille de France
ANAMJ Member:
Qualified Professional to prepare an estimated inventory or to make proposals for settling the pecuniary interests of the spouses
Qualified person representing a defaultive heir in the account, liquidation and partition operations as well as the estate agent's mission
+ 33 1 56 91 24 24
73, av. Paul Doumer | 75116 Paris – France