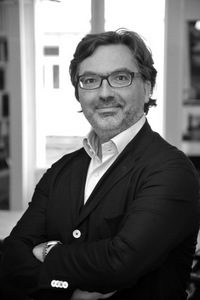 Areas of expertise
Corporate, Mergers/Acquisitions and Assets
Business law and Private international law
Insolvency proceedings
The law of trade fairs and exhibitions
Bénédict Vidal works mainly in mergers and acquisitions, in all capital expansion transactions (LBO, MBO, MBI) and equity financing. Bénédict Vidal is also a recognized specialist in business law, contract law and distribution and in particular the law of trade fairs and exhibitions, a niche area in which he is a renowned expert.
A graduate of Institut d'Etudes Politiques (1986) and with dual training in law and finance at the Sorbonne and Dauphine (1988), Bénédict Vidal began his career not in the law but in financial auditing with Ernst & Young. This is his USP.
He set up his first firm as a tax and legal consultant and became a lawyer in 1992, fusing the two professions. However, the opportunity to head up the French offices of the legal firm founded by Swede Gunnar Carler soon presented itself. He liked "the firm's human touch and the international focus of the client base and the cases, which he was familiar with from Ernst & Young." Soon he was joined by other lawyers, including Ryane Meralli, and so the Carler France adventure began. Alain Rapaport and Clara Dentes later came to swell the ranks of the firm's teams and he approached Jean-François Veyry in 2009 and Sophie Haddad en 2011. The firm's "hallmark" is: "A firmly independent approach, aiming to provide clients with a comprehensive service by building cross-disciplinary teams, based on an original business model with a highly democratic governance style."
As a lawyer, Bénédict Vidal sees himself primarily as an advisor and a strategist: "It's in the company's genetic code and in mine to be as far upstream of operations as possible. We primarily support our clients at the strategic approach stage." His clients are large groups, dealing with contractual matters and in private international law and international distribution, particularly with mid cap companies in mergers and acquisitions.
He is a director of A3E the Association of Business Valuation Experts, and a lecturer at CELSA (school of advanced studies in communication and information science). He loves motor sports and dreams about the Tour de France automobile and the Le Mans Classic. He is also a lover of contemporary art and holds one value very dear: creativity. As the man himself says: "In my contract law cases, particularly my international work, where one is less hemmed in by regulatory constraints, the ability to be creative is fundamental."
+ 33 1 56 91 24 24
73, av. Paul Doumer | 75116 Paris – France